Rio Costilla regulations are set forth by it's owners and the New Mexico Department of State Forestry. ABSOLUTELY NO FIREWORKS. Fire restrictions may apply at any time. We encourage visitors to come prepared. Campsites are available on a first-come, first-serve basis only. Reservations may be made for our Large Canopy for special events by calling: 800-RIO-PARK or 575-586-0542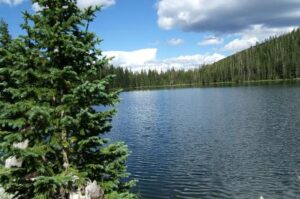 Rio Costilla takes much pride in maintaining a clean and healthy environment. We kindly ask visitors to pack out all trash. For your safety, please ensure that all trash is kept in closed containers during your stay. It is wise to keep all food packaged in sealed containers inside your camper or vehicle. This will help reduce the probability of wild animals entering and rummaging through your camp. Absolutely NO ATV's allowed inside Rio Costilla, off road machines (includes motorcycles), and no motorized boats.
Daily Fish Limit on Rio Costilla Streams and Lakes is Four (4) Per Day Per Fisherman.